Fescue vs. Bermuda Grass
Do you have dry patches on your lawn? Before reseeding, it is advisable to familiarize yourself with different grasses, like fescue and Bermuda. Although these grasses grow on lawns across the country, knowing the differences can help you choose the most suitable for your yard. If you have scheduled a reseeding or planting project lined up, Driscoll Tree Service is the go-to tree care company for professional help. Leverage our extensive knowledge and expertise to determine the best grass type for your home.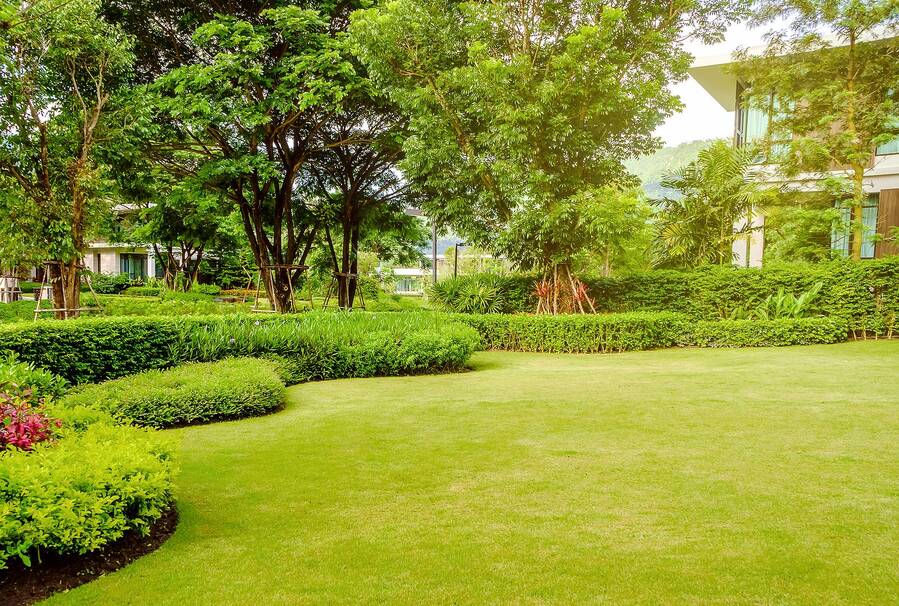 Bermuda Grass
Bermuda grass is a popular option for warm climate areas, as it withstands extreme heat and drought. Tree service providers recommend Bermuda grass for Hardy Zones or lawns with a soil PH of 6 to 6.5. Before planting Bermuda grass on your lawn, schedule an inspection with a trusted tree service provider. This allows professional arborists to test your soil and account for vital factors like climate and hardiness zones.
Pros of Bermuda Grass
Bermuda grass is popular because of the deep green hue that makes lawns look vibrant and lush. In addition, it can withstand high foot traffic, heat, drought, and excessive salt, making it an ideal option for yards in warm climates. As mentioned, consulting an expert before growing Bermuda grass is advisable to ensure a thriving landscape.
Cons of Bermuda Grass
While there are advantages to Bermuda grass, it requires more maintenance. This means frequent weeding and watering to ensure it remains healthy. It would help if you also mowed regularly at about 1 ½ inches tall so your lawn doesn't look shady. If you prefer a more hands-off approach to maintenance, consult a trusted tree care company for help.
Fescue Grass
Fescue grass thrives in cool climates but is also hardy depending on the environment. We recommend this type of grass for hardiness zones two through seven, as it can withstand colder temperatures. The long, complex root system strengthens fescue grass, allowing you to enjoy outdoor activities without damage. This cold-climate grass grows best in soil with a PH ranging from 5.5 to 7.5.
Pros of Fescue Grass
Fescue is a hardy, durable grass that withstands cold winters and hot summers. The deep roots provide sufficient anchorage, supporting high foot traffic without frequent maintenance. However, scheduling care and maintenance ensures your lawn is healthy throughout the year. Fescue grass grows in clumps, so mowing and watering are not conducted regularly.
Cons of Fescue Grass
Fescue grass requires minimal maintenance, which is an advantage and a downside. If left unchecked, this type of grass can grow several feet. It can look less vibrant in the summer, compromising curb appeal. If you want a healthy, appealing lawn year-long, consider hiring a professional for maintenance.
Now that you know the differences between fescue and Bermuda grasses, contact us at Driscoll Tree Service to help you determine the most suitable lawn. Our certified arborists account for sun tolerance, shade, appearance, sod and seed options, among other factors, to guarantee an appealing lawn.