Iron Chlorosis in Trees
Trees play a crucial role in the ecosystem, from purifying the air to improving curb appeal. However, many signs of tree damage go undetected, hence the need to schedule regular maintenance checks with a reputable tree care company. Driscoll Tree Service has a team of experienced and well-trained arborists ready to help you detect trivial signs before they become more pronounced. For example, if you notice the leaves on your trees are wilting or appear yellow, your trees may have iron chlorosis, also known as chlorosis iron deficiency. While this deficiency is usually found in maple and aspen trees, it is crucial to schedule maintenance checks with a professional tree service to ensure it's detected on time.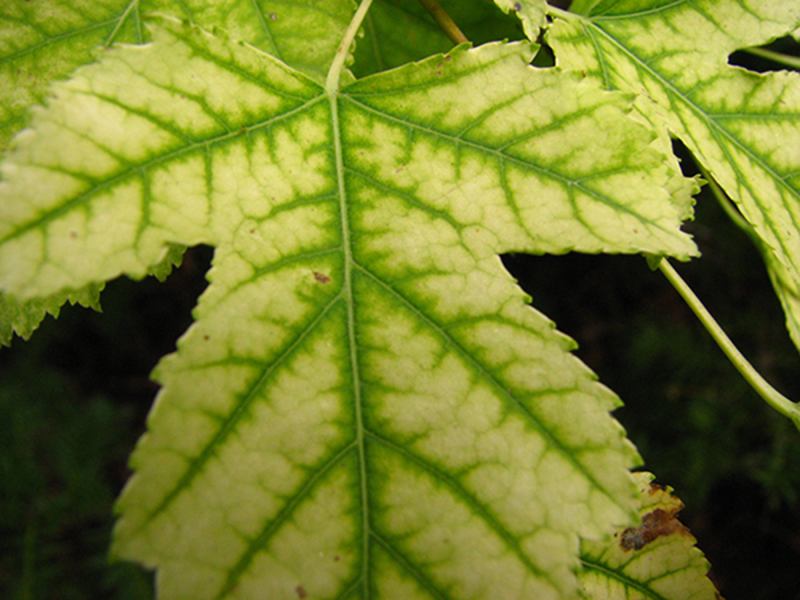 Yellow or wilting leaves are usually considered the effects of hot weather or dehydration, which is not always the case. If watering regularly or other DIY solutions fail to mitigate the spreading to surrounding healthy foliage, it may be time to consult a tree specialist for diagnosis. Leverage our extensive industry knowledge and expertise to ensure your trees receive the care and treatment they need. Depending on the severity of the condition, we can recommend the appropriate fertilizer treatment to provide the trees with iron.
What are the Symptoms of Iron Chlorosis?
As aforementioned, the most noticeable signs of chlorosis iron deficiency are wilting or yellow leaves. If the leaves on your trees become brittle and thin and suddenly start to curl, it signifies the onset stages of iron chlorosis. Sometimes the leaves will retain their dark green pigment in the edges, but the part between the veins and edges fade into light green or yellow. Failure to detect these signs early can compromise the general well-being of your trees.
What Should You Do if Your Trees Show Signs of Iron Deficiency?
If you detect signs of iron deficiency on your trees, you need to take an instant action to get the condition treated before it severely affects the health of your trees. The safest bet is to hire a trusted tree service specializing in tree health. Unfortunately, narrowing down the right company for the job can be challenging with all the service providers advertising their services. However, our highly-trained arborists can quickly identify even the subtlest signs of iron deficiency, allowing them to come up with effective treatments to restore health and vitality to your trees.
How to Prevent Iron Chlorosis
Like most tree diseases, preventing iron chlorosis is better than curing it. The most effective solution to prevent this condition is to provide regular fertilization treatment to boost iron levels in your trees. Several iron-rich fertilizers can provide a steady supply of iron throughout the year. However, it is advisable to consult a professional for guidance on the right fertilizer to use on your landscape.
The fertilizer should be delivered via trunk injection for optimal results since the iron travels quickly to your trees' extremities. For more information about iron chlorosis or any other tree condition, contact us at Driscoll Tree Service. When you schedule an appointment with our tree care company in Grayson, GA, you have access to extensive industry knowledge and experience, which you can leverage to improve the overall health of your landscape.